Mahjong returns!

All levels welcome

Thursdays 1-3:30
Starting October 4, 2022








Story Time

10:30am ages 0-3

Story Time is Back!





Comics Plus

Unlimited comics online with your library card!





Register with the Children's Room





Register with the Children's Room

Reserve your spot now! 845-856-7313











Register with the Children's Room

Reserve your spot now! 845-856-7313





For use now with your Port Jervis Free Library card





Library Closed 11/11/23




Library Board meeting
Tuesday, November 21, 2023 @ 10am
The next Library board meeting will be held on Tuesday November 21, 2023 at 10am at the library.
All Board Meetings are open to the public.
Unless otherwise noted, in-person meetings will be held at the Port Jervis Free Library located at 138 Pike Street, Port Jervis NY 12771. In-person meetings are scheduled from 10:00 AM - 12:00 PM.
---
Proclamation Honoring Carey Sue Connelly
Whereas,
The Port Jervis Free Library is forever grateful for the long term service of Carey Sue Connelly to the Library and our community;
Whereas,
in the role of the Library Trustee over the past 15 years Carey has been a dedicated leader who has provided insight into the past practices and traditions of the Library;
Whereas,
Carey is an avid reader who carries on a family tradition, as her mother, Jean B. McIlnay, was a library employee. Carey is a retired educator who spent 30 years as a 6th grade teacher in the Port Jervis School District. A mother of two with three grandchildren, Carey is a lifelong area resident from a close knit family;
Whereas,
Carey is an active Board member of the Humane Society of Port Jervis/Deerpark, a nonprofit animal shelter that continues to raise money and care for all animals in need in our community for over 50 years. Carey also trapped, neutered and cared for over 200 feral cats on her property for over 20 years;
Whereas,
today we come together in celebration of her dedication and commitment resulting in the improvements she had on our library, school district and community in general;
Now, therefore, be it resolved that the Port Jervis Free Library Board of Trustees
proclaims June 20, 2023, as
Carey Sue Connelly Day
in honor of all she has done to make our library and community so much better.
---
Digital Navigators of the Hudson Valley
Here at the Port Jervis Free Library
Need computer assistance? Having trouble with your devices?
Make an appointment with Stacy, 845-856-7313 or email ptj@rcls.org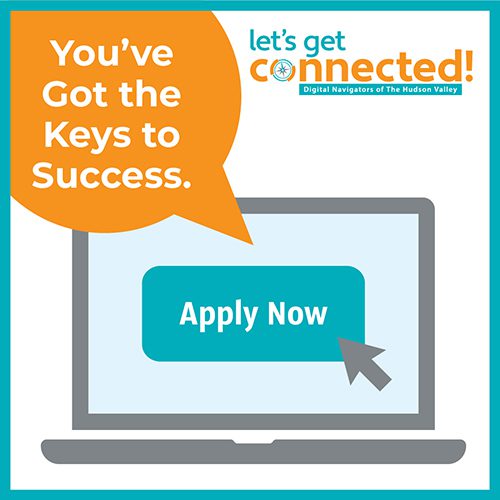 ---